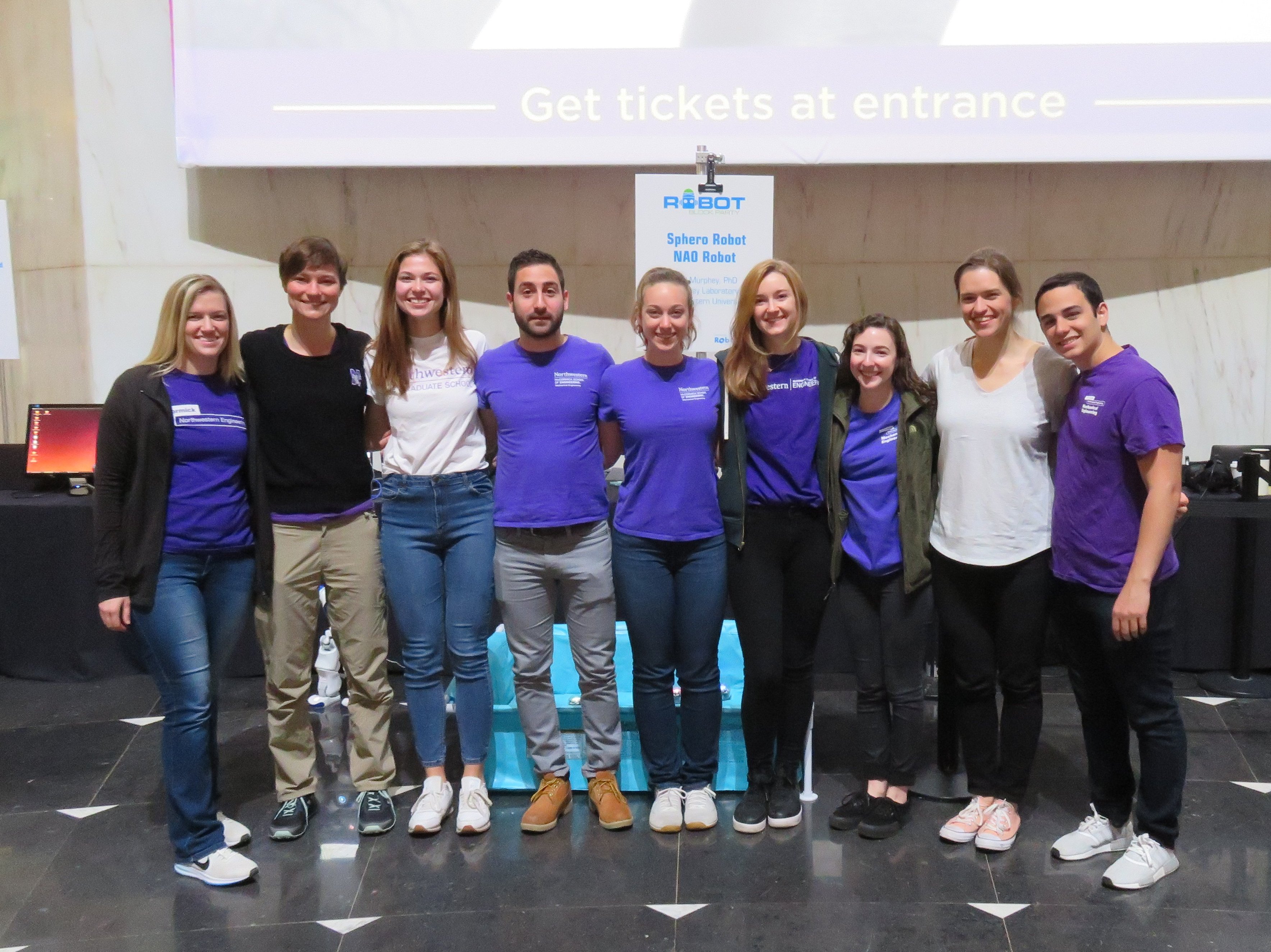 National Robotics Week at the Museum of Science and Industry, Chicago, April 2019
Brady Scholar Fellow
(2016 - 19)
The Brady Program in Ethics and Civic Life at Northwestern University is a selective scholarly community in which 16 undergraduates join together with graduate students and faculty to discuss political ethics and philosophical concepts and the application of these to local, national, and international communities. It combines a year-long examination of topics around moral political philosophy in small-classroom setting, exposure to a part of the world outside the U.S., and a capstone project that addresses social, economic, or political issues in the Evanston community.
Led 16 Northwestern students to secure funding and perform energy audits for affordable housing.
Directed and oversaw the application to three grants ($3k) destined to secure funding and perform energy audits for affordable housing.
Collaborated with 3 graduate students to create program goals, define success metrics, organize meetings, and handle student conflict.
Organized the efforts of the students by scheduling weekly classes and individual meetings, prioritizing goals, and coordinating their tasks.
Evaluated their progress with weekly progress summaries and quarterly project reports
Coordinated collaboration with faculty at the Mechanical Engineering department of Northwestern University to offer course credit for energy audit training and participation in energy audits.
Accomplished training of 21 participants and the completion of 5 energy audits in Evanston apartments.
Outreach at Museum of Science and Industry
(2015 - 19)
The Museum of Science and Industry and the Center of Robotics and Biosystems at Northwestern University together organize a 3-day Robot Block Party event at the museum during the annual National Robotics week. Since 2015, I attend, present to the public, and communicate my robotics research projects to hundreds of adults and children.
President of Mechanical Engineering Graduate Student Society
(2016 - 18)
For two years, I served as the president of the Mechanical Engineering Graduate Student Body at Northwestern University. During this time, I
Structured the student body by creating new positions with clear responsibilities, including positions for a Vice-President, Treasurer, Social Chair, Career Development Chair, and Website Developer.
Developed student networks and transition to graduate school by establishing new annual social, some targeted primarily to incoming students.
Initiated professional networking with weekly seminars from students and invited speakers.
Streamlined the communication and outreach process by creating a contact e-mail address and a website.
Ensured smooth operation and transition by creating an online record of all protocols and directions (e.g. how to organize social events, hold elections, process finances).
Supervisor of Science Teaching Assistants
(2013 - 14)
After three years of serving as a Science Mentor (Physics and Math), I was promoted to the inagaural role of a "Meta-Mentor" to supervise and guide all science teaching assistants on improving their communication and teaching skills. Among others, I
Evaluated all science teaching assistants (Math, Physics, Chemistry, Biology) by filming their lectures (~ 5hours/week) and noting strengths and weaknesses.
Improved their communication and teaching skills by using film footage to offer them constructive feedback and illustrate areas for improvement to better engage their audience.